There are plenty of ways to get involved with Our Bright Future. Many of the projects operate at a local level, although some are available nationwide. Do get in touch with the team if you are interested in a specific project and we can put you in touch with the relevant project leader.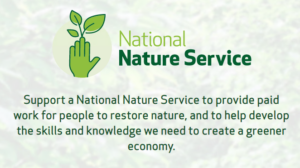 Could you be part of the green economy? Environmental Careers: Young People's Q&A
Aimed at young people figuring out their future careers, this online session will introduce the National Nature Service and explore entry level roles across the conservation, environment, and sustainability sectors from young passionate career professionals.
Hear from a small panel who will share their work experiences and pathways and their top tips for career development. Staff experienced in the recruitment process will offer their tips on employability and the different pathways available.
There will plenty of time for you to ask your own questions!
Monday 14 December 4.30-6pm
Join The Wildlife Trusts' #WilderFuture campaign
The natural world is in a critical condition. Let's put it into recovery. There are various laws to protect nature (although they have not always been effective) but there aren't laws to support putting nature back.
A Nature Recovery Network set in law will map the places where wildlife currently thrives and highlight the spaces where more habitat could be created, to connect these in a network that extends across landscapes, joining with others to form a national network through which wildlife can be restored.
Tell your politicians to write the next chapter for wildlife here.