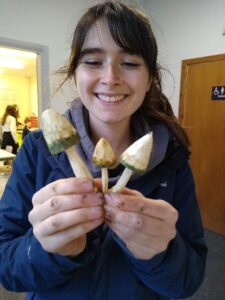 My 16 months apprenticeship with Cumbria Wildlife Trust and YDMT has been incredible. Two years ago, I didn't know what I was passionate about or wanted to do.  This apprenticeship gave me the opportunity to learn about the natural world, and about myself.
I have grown so much that have been running volunteer work parties, organising everything beforehand to delivering safety talks and overseeing the day's tasks. Twelve months ago, I wouldn't have believed it possible. One of my biggest achievements has been getting my chainsaw ticket due to my determination and refusal to be beaten by anxiety. This has been one of my biggest takeaways, that even when things are big, scary and seem impossible, if you care enough, try your best and refuse to let your own self-doubt get in the way, you're going to succeed. I can now confidently go to a peatbog and ID most of the plant species surrounding me. Its small things like this, which I sometimes forget about when I doubt my abilities. When I take a step back, I realise just how far I've come. None of this would have been possible if it wasn't for my apprenticeship.  I would still be stuck in a job, I didn't want, working all hours, feeling unfulfilled.
At school I tried hard, got good grades, but never stood out or got praise.  I never needed extra help either. I was somewhere in the middle- an overlooked group of students. I didn't want to go to university after A levels. I felt lost. Now I am exceeding my own expectations and enjoying work for the first time. I have accepted a job working on a river restoration project for one of the UK's biggest conservation charities, whilst gaining another qualification. An opportunity I am so unbelievably excited for and would not have if it were not for my previous experience in conservation.
I've definitely had my ups and downs, times where I found it hard, where I didn't feel like I was achieving as much as I should have been. I had doubts as to I was going to do at the end, if I'd find a job or if I'd spend the rest of my life in short term contracts with little progression or security. But I kept working and I made it out the other side, stronger and happier for it. I knew Jo and the team were there if I needed help, advice, or even just a chat.
I am so grateful for the opportunities YDMT provides for young adults like myself. I believe everyone should have the opportunity to progress with the right support, not just those at either end of the academic spectrum. YDMT find people who really care about the natural world and give them a chance. No matter their background or grades, if they think they can help you they will try their hardest to get you where you want to be.