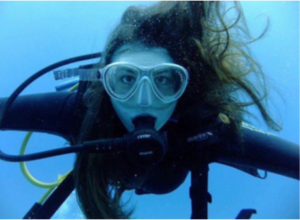 Wildlife and the community have always been a passion of mine since I can remember. I have found my growth into the Our Bright Future team exhilarating and informative. Our Bright Future stands out in a crowd and brings the opportunity to be involved in an amazing programme where I can be a part of something I truly have admiration for, I can't wait to make a difference!
Coming from a close family background who always gets involved with a variety of areas within the community and wildlife it came naturally to fit in and enjoy my role at Our Bright Future. I am excited about the prospects of learning more during my apprenticeship. I have always known from a young age that I have wanted to contribute to the community, it all started when I became a volunteer as a young leader in a Girl Guiding brownie pack and being able to support and devote myself to the young children's wellbeing gave me a sense of accomplishment as well as happiness for me, the children and the community.
I believe all animals and wildlife should have a great quality of life, to support this within my family we always ensure our garden bird feeders are full, not only does this give the birds a source of food and a home but it also means my family and neighbours have the ability to birdwatch from afar, this contributes to our wellbeing and I love having the opportunity to promote this to others to bring back a more nature friendly community. (We also have a horse called Romeo who is adored, and free-range hens.)
My goal and what I am really looking forward to in my role at Our Bright Future is to bring communities together through the environment, to encourage them to admire what surrounds us as well as valuing the nature. I am especially looking forward to doing this and by doing so I believe it will contribute hugely to the wellbeing of the community especially in light of the recent Covid-19 pandemic, which will give them a sense of freedom and beauty with this link to wildlife. I am excited to have the opportunity to use my creativity and inspire a variety of people of all ages through social media, I feel that in this era it is a valuable way to spread the word of an important programme. I am looking forward to working alongside some great individuals who I can call upon to learn from their wisdom and to help guide me during my apprenticeship.
I am extremely ecstatic to land my dream job, I am so excited and cannot wait to get stuck in! I would like to share with you some photos I have taken and enjoyed viewing over the past few years that inspire me to make a difference for our environment and our community.